Arid Past to Fertile Present
In 1895, encouraged by prior attempts by others to irrigate southern San Joaquin County, H.W. Cowell and N.S. Harrold formed the Stanislaus and San Joaquin Water Company. It featured a system of ditches along the Stanislaus River from Knights Ferry to Manteca. Called the "Tulloch System," it spanned 47 miles and distributed water to 3,000 acres of land in Manteca and Oakdale. The water helped dairy farms flourish, increased fruit and vegetable yields, and enabled the introduction of new crops like alfalfa.
The Wright Irrigation Law of 1887 allowed local residents to form irrigation districts under the same status as municipal water districts with the approval of a county board of supervisors. Realizing the potential growth and prosperity an established irrigation district could bring to the Central Valley, P.E. Lunstrom, F.A. West and Joshua Cowell petitioned for the formation of the South San Joaquin Irrigation District (SSJID) in 1909.
The San Joaquin County Board of Supervisors approved the petition for a public election and the measure passed by a vote of 396 to 67. Five board members were elected to run SSJID under the bond issue of $1,875,000. SSJID split the Tulloch System and water rights with the Oakdale Irrigation District (OID), which was formed about the same time.
In conjunction with OID, SSJID constructed a diversion dam above Knights Ferry in 1913 and named it after SSJID Board President Benjamin A. Goodwin.
Irrigation enabled by the new dam began in the spring of 1914, ultimately using nearly 300 miles of ditches, tunnels and flumes constructed after completion of the dam to distribute water to area farms. 
In 1915, SSJID encountered a water shortage resulting from a lack of precipitation the previous winter. To minimize crop damage from similar shortages in the future, SSJID constructed Woodward Reservoir near Oakdale. The reservoir — named after one of the District's founding board members — was completed in 1916 and increased SSJID's storage capacity by 36,000 acre feet.
In 1923, SSJID wisely lined nearly all of its canals with cement to help prevent seepage and relieve drainage problems. This innovation resulted in a 48% water savings across the District.
Irrigation to Hydropower Production
SSJID and OID, along with Pacific Gas and Electric (PG&E) and the San Francisco Electric Co., reached an agreement to construct Melones Reservoir in 1927, which held 110,000 acre feet of water and could irrigate 144,000 acres. Years later, the federal government took over the reservoir and greatly increased its capacity. The reservoir is now known as New Melones, and SSJID and OID have rights to the first 600,000 acre feet of water that flows into the reservoir each year.

In 1955, the Tri-Dam organization was formed by SSJID and OID with two goals: to increase water storage to meet irrigation obligations and to add low-cost hydropower electrical production. The Tri-Dam reservoirs – Donnells, Beardsley and Tulloch — became operational in just two years and the project was dedicated on June 15, 1957. The system was built to hold 230,000 acre feet of water and made it possible to generate 102 megawatts of electricity with its spinning turbines.
New Technology and New Services
Beginning in the late 1980's and continuing to today, the District has implemented new systems and pursued new initiatives to improve operations. Some of the highlights include:
Activating a SCADA (Supervisory Control and Data Acquisition) system and automation technology to operate the Main Distribution Canal in 1989.
Completing the Northwest Project, a portion of the System Improvements for Distribution Efficiency (S.I.D.E) Project, in 2003.
Completing the state-of-the-art Nick C. DeGroot Water Treatment Plant in Oakdale as a collaboration with the cities of Escalon, Lathrop, Manteca and Tracy (an initiative known as the South County Water Supply Project) in 2005.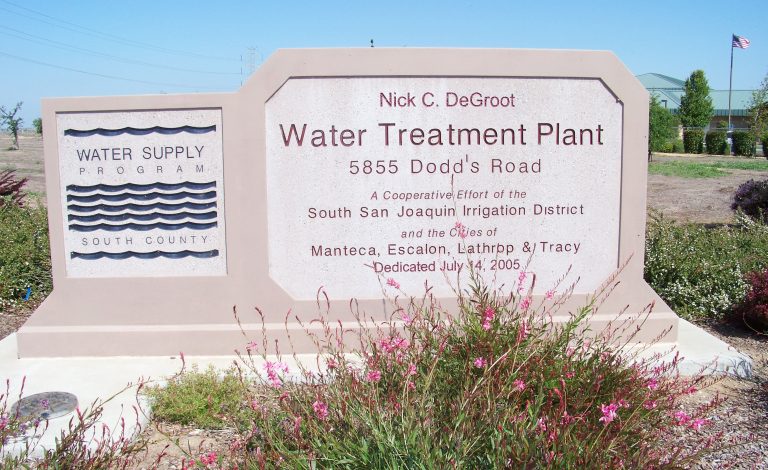 The Water Treatment Plant is an especially important element of SSJID's long-term strategy. Its membrane technology allows SSJID to provide low-cost domestic drinking water to the cities of Tracy, Lathrop and Manteca. Future expansion of the project will deliver water to Escalon as well.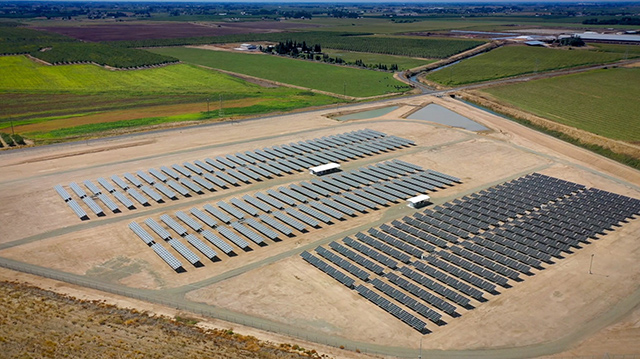 In 2009, as SSJID celebrated 100 years of providing reliable service and meeting customer needs, we completed construction of the 1.4-megawatt Robert O. Schulz Solar Farm on a site adjacent to the Nick C. DeGroot Water Treatment Plant. The electricity generated is used to power the plant, reducing the District's electric bill by an estimated $400,000 annually.
Bringing Safe and Affordable Power to the District
Today, SSJID is actively pursuing the acquisition of PG&E's electrical distribution network within our service area, with the goal of providing power to Escalon, Manteca and Ripon. It's an ongoing process, going all the way back to 2004, when the SSJID Board of Directors unanimously voted to proceed with the purchase.
Multiple offers and many legal actions later, we have yet to reach an agreement with PG&E. However, our commitment to providing electricity to our customers in a safe, trustworthy and affordable manner is unchanged. It's a decision supported by thousands of local residents as well as many business and government leaders, and one we're convinced is in the area's best interests. So, while the project continues to be vetted by the courts, we will continue to keep our eyes on the prize.