The SSJID Board of Directors is responsible for setting policy and organizational direction on behalf of our constituents. Registered voters within each division elect a director for a four-year term of office.
Agendas and Meeting Schedule
The Board meets on the second and fourth Tuesdays of the month, with other meetings scheduled as needed. Board meetings are typically held at 9 a.m. at the District's main office at 11011 East Highway 120, Manteca.
To contact a Director or to request meeting dates, times and agendas, click on a Director's link above to find the Director's email address. You may also call Clerk of the Board Danielle Barney at (209) 249-4623 or email dbarney@ssjid.com.

What will be discussed at the next meeting? An agenda is available online the Friday before each gathering and is also posted on the public information board in front of the main office.
Hear and Be Heard: Attend a Board Meeting
Thinking about attending or participating in a board meeting? Here's what happens at these gatherings:
The meeting is called to order by the Board president.
Roll call is taken and the Pledge of Allegiance is recited.
The president asks for public comment on items that are not on the agenda. To participate, simply indicate your intent to the Board president at the time that public comments are requested. You will be asked to approach the podium and state your name and address. You may then speak to the Board about any item not on the regular agenda, typically for a limit of five minutes. Be aware that the Board is not permitted to act on public comments until and unless they place the topic on a future agenda.
After public comments are closed, the Board moves on to the consent calendar, Director's and various other reports, and then the action calendar.
The Board then considers any closed-session items before adjournment. The public and most staff are not permitted to attend the closed session. Any action taken during a closed session that is required to be reported by state law is reported to the Board secretary and is included in the meeting minutes.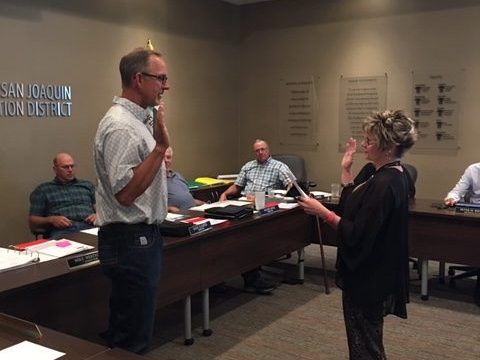 If you want to speak on an agenda item, we recommend that you mention this during the public comment period near the beginning of the meeting.  You will then be called upon when that agenda item comes up.
District and Director Election Information
SSJID consists of five divisions.
Directors are elected by the voters in each division.
Directors must be voters and landowners within the district and reside in the division they represent.
Elections are held in even-numbered years and directors serve for four years. There is no term limit and directors may be elected for successive terms. 
Filing periods for November elections open in July and close in August.

Candidate forms can be picked up and returned in person from the San Joaquin County Registrar of Voters office at 44 N. San Joaquin St., Suite 350, Stockton, CA.
SSJID is an irrigation district organized under, and subject to Division 11 of the California Water Code.