Redistricting Process
Every ten years, boundaries of all local government officials that elect by district, including special districts like the South San Joaquin Irrigation District, are updated to reflect how populations have changed based on the most recent U.S. Census. In August 2021, the California State Legislature passed Senate Bill 594 to extend the deadline for final approval of a redistricting map for special districts to April 17, 2022.
About Redistricting
Under state law, divisions of special districts should:
Be nearly equal in population,
Be as compact as possible
Consist of geographically contiguous area
To the extent feasible, have boundaries that coincide with existing recognized natural boundaries
To the extent feasible, preserve existing communities of related and mutual interest
What to Expect
The Board of Directors will be working with census data, experts, and community feedback to assess the county's population and communities of related interests to develop preliminary options for the five divisions of South San Joaquin Irrigation District by March 2022. A final plan will be submitted to the Board of Directors for a vote of approval at their meeting on March 22, 2022.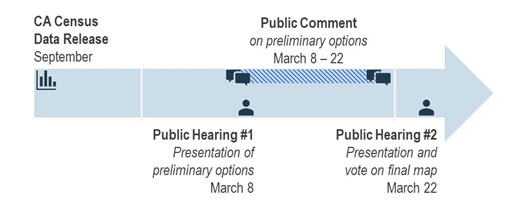 Get Involved
The Board of Directors wants to hear your input before they approve final maps in March 2022. Share your input by March 22, 2022, through one, or more, of the following ways: